This guide will help you as an affiliate to find answers regarding the economy, commissions, payments, referrals etc.
---
When do I get my commission?
It's a frequently asked question. We have listed the process below, from when the transaction gets registered to when you get paid.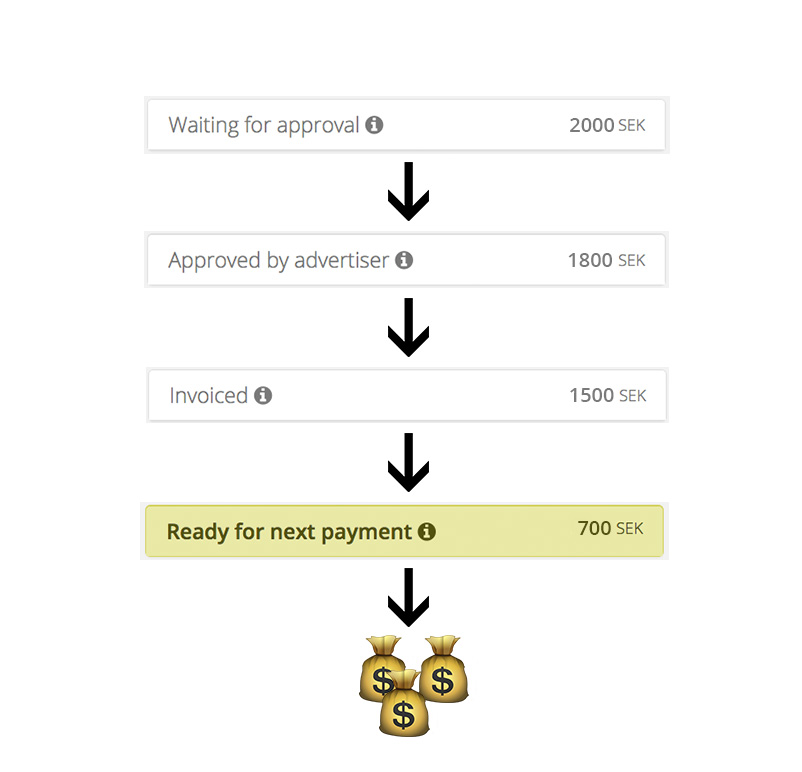 Waiting for approval
This is the sum of all transactions that are still waiting to be approved by the advertisers. Reasons for not approving a transaction could be that the customer returns the entire order.
Approved by advertiser
This is the sum of all transactions that are approved. The advertisers will soon be invoiced.
Invoiced
This is the sum of all transactions that have been invoiced by the advertisers. As soon as they have paid their invoices your commission will be ready for the next payment.
Ready for next payment
This is the sum of all transactions that are ready and will paid to you upon next payment day.
Commission
Our advertisers pay you by performance and results. Currently our advertisers pays for registrations (lead) and sale (the sale). How and for what each advertiser pays are presented on each advertiser's program page.
Percentage-based commission
The majority of our advertisers pays a percentage-based commission. This means that you, the affiliate gets paid when someone clicks on your ad or text link and then makes a purchase by the advertiser. If the commission is 10%, you get 10% of the order value. In other words, if someone clicks on your ad and then place an order, where the order value is 1000 SEK, you get 100 SEK in commission.
Click-based commission
Some of our advertisers pays for unique clicks. This means that you as an affiliate gets paid for each unique clicks that occur on the ads and text links you have published. Keep in mind that you may not click on the ads yourself or encourage others to click on your ads. Our advertisers want to pay for quality clicks and common sense applies. Abuse can lead to indented commission and account suspension.
iSale / post view
Some advertisers offer commission for iSales, also called post view. This means that you as an affiliate gets commission even if the consumer (website visitor) haven't clicked on a banner before example an order entry. It is therefore sufficient that an ad is only loaded for the commission of the sale to be generated.
Usually, the time between an ad-impression and the conversion is shorter for iSales than usual sales where a click is involved.
Keep in mind that you have to publish a banner from the advertiser that offers iSales, to get this type of commission.
Segments & segment adjustments
Some affiliate programs offer a so-called commission or segment ladder where you as an affiliate gets a higher commission if you achieve a certain level of deliveries. Generally the deliveries are measured in the number of sales per month, but other methods may occur, for example total order value.
Shortly, you could say that a commission ladder works in three different ways.
If we assume that an affiliate program offers a commission ladder regarding to this model: 10% for sale number 1-9, 12% for sale number 10-19 and 14% for sale number 20 or more. Then your commission can be registered in three different way, as described below.
Segment, model 1)

In this model your commission (10, 12 or 14) is based on the delivery of traffic for the previous month. And your new commission will apply the month after that. We are not recommending this model becouse we don't think is fair. Assuming you can deliver really much traffic that converts in december, which will put you in the next commission step for january when you (maybe) hardly deliver any traffic at all.

Segment, model 2)

Another model is that you as an affiliate get the standard commission from the start of the month, and then when you reach the higher step (more than 10 sales) you will only get the increased commission counting from the sales above 9 sales.

Segment, model 3)

This model is very similar to model 2, but the big difference is that you will get the increased commission for all your sales delivered the same month, when you reach the number of sales that will apply the next commission-step.
For example you will get 10% for sale number 1-9, and when you reach sale number 10 you will get 12% for that sale and we will add a transaction called Segment adjustment which is the sum of the extra 2% per sale, for sale number 1-9.
With this model your will get the highest possible commission for all your delivered sales within the current month. In every new month you will start over, and your new sales will be registered with the standard commission again until you, hopefully, reach the next step.
We think the third model is most fair, and thats the model we recommend and striving to work with in most cases.
Payment
We will pay out your earned commission on the 15th of each month. If the 15th should occur on a public holiday, you will get your paymnet the following work day. It might take a few days before your paymnet will appear on your bank account.
To get your paymnet as a company you will have to earned at least 500 SEK, and if you don't have a company the limit is 300 SEK.
- Please remember to enter in your correct personal and banking information, else we don't know how and where to pay you.
If you are an individual and not over 18 years old, we will need a consent from your parent or guardian. Ask your parent or guardian to contact us, at least one week before your next paymnet opportunity.
Your commission that not reaches our payment limits of 500 SEK or 300 SEK, will get postpone to the next month.
Tax
For companies in Sweden we will pay the earned commission and add VAT, and for companies in EU we will not include VAT.
Please make sure you have entered the correct information for us to complete the payment, for example company registration number and VAT-number.