Create banner codes
In this quick tutorial we will guide you through each step you need to do to get the banner codes or the tracking links up on your blog or website.
1. Sign up as an affiliate
If you don't have registered an account in our network, please go ahead and do that now. It's easy and it's totally free.
2. Channels
When you regestered your account with us you where promted to add a channel. In other words, the URL to either your blog or your website.
On your channel (remember, your website or your blog) you can add banners or links to our advertisers in the network.
You can add as many channels as you like, log in to our dashboard and, in the top right corner, click on Your name -> Channels.
3. Join advertiser programs
When you have added your channel (website or blog) where you want to put your ads, it's time to join an advertiser program. You can find all of our advertisers in the program directory which you can access in the menu to the left Advertisers -> Directory. Click on the advertiser that you find interesting and you will get to their program page.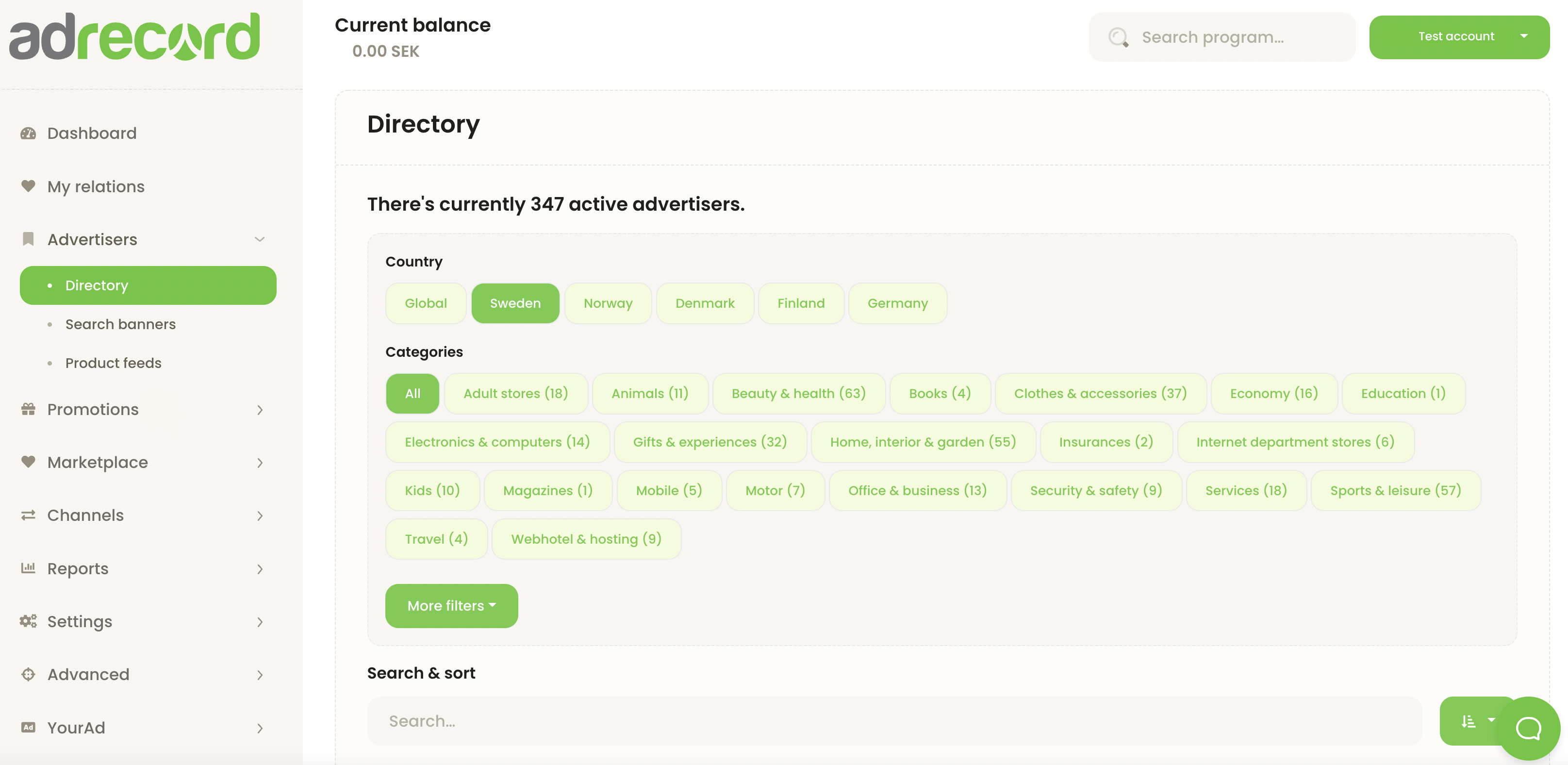 4. Apply to an advertiser
Now, when your on the advertisers program page, you can apply to their affiliate program with your channel. Please note that you have to add your channel to your account before you can apply to an advertiser program (Item #2).
Choose your channel where you want to promote the advertiser and apply by clicking the button "Apply".
In most cases you will be approved right away to the advertiser program, and in some cases the advertiser themselfs will approve your application later on. If you get approved right away you can move on and get banners and links right now.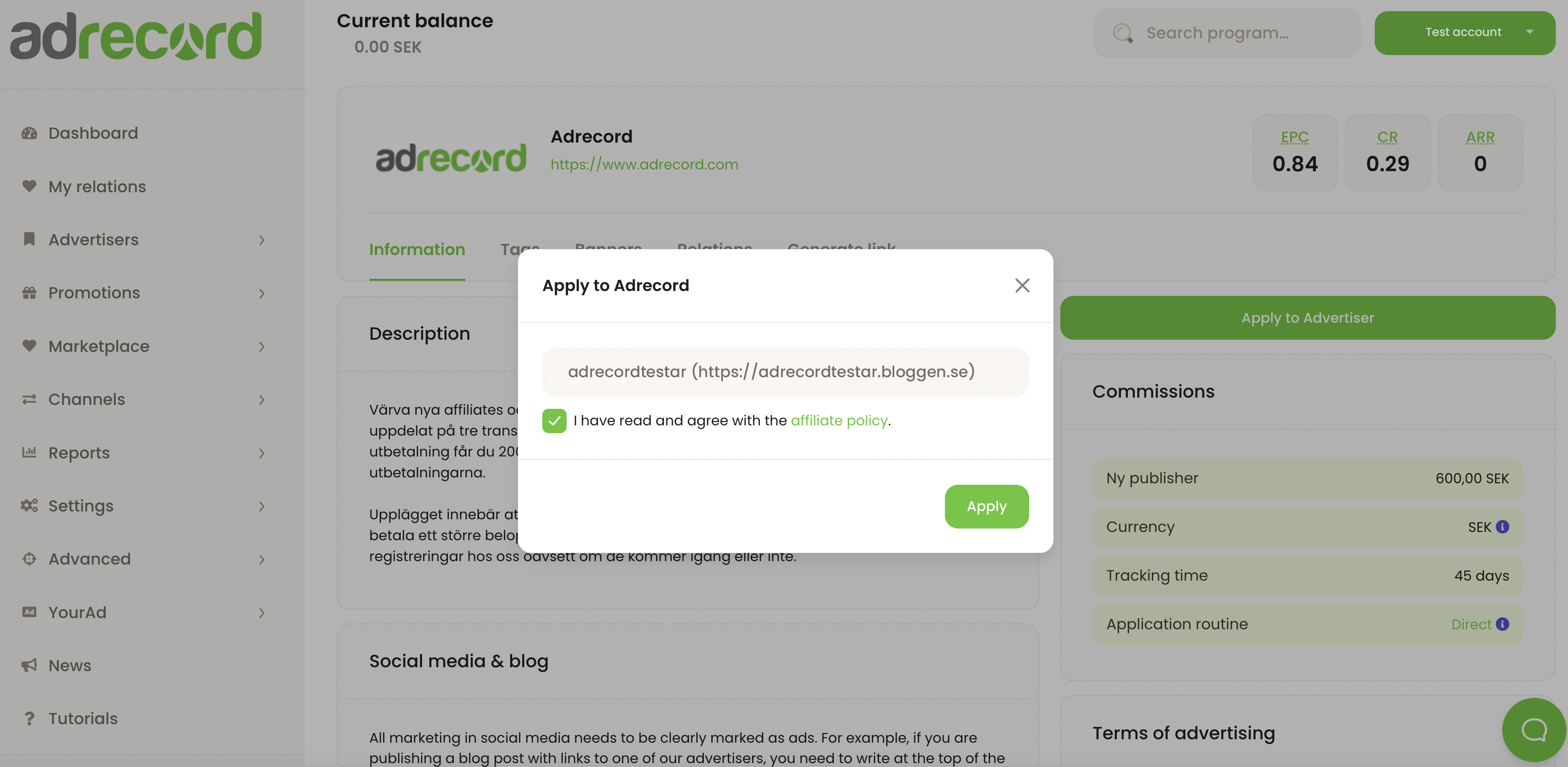 5. Generate link
To create a link to use on your blog or website click on the tab "Generate link" on the advertisers program page. Please note that you need to have an approved channel relation to the advertiser to be able to create and use your link (Item #4).
Pressing the tab will get you to our link generator, and it's the link/code/URL in the box below Text link / Affiliate link you should use to link to the advertiser on your website or blog.
Choose your channel that the link will be assigned to.
In the feild "Direct link" you can add an URL to a specific page or product on the advertisers website that your unique tracking link will redirect to.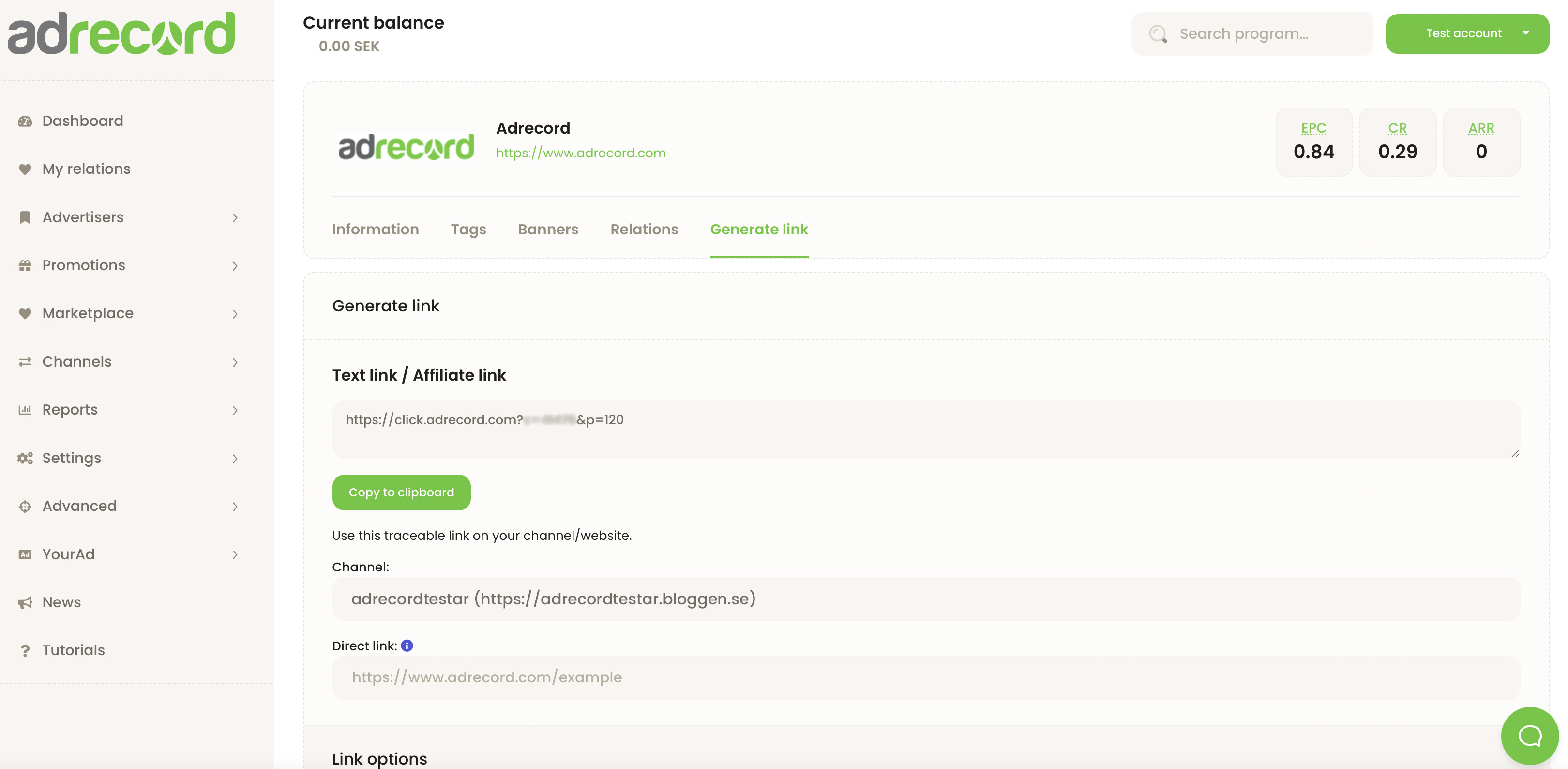 If you click on the small arrow beside the text "Link Options" you will get some more options. For example you can choose to view all the HTML-code for the link, provide the link text or provide an EPI.
If you provide an EPI you will get the opportunity to preforme your own (simple) A/B-testing on your links. For example you could create a link where you provide the EPI: "Red button", and then add another link with the EPI: "Blue button".
Add your created links to your blog or website, in this example with a red and a blue button. When you do your follow-up later on in our reports you can determine which link preformed the best.
Of course you can privode which EPI you want and it doesn't have to be about the button colors, but it's a good example of this feature.
6. Get banners
To get banners to your website or blog click on the tab "Banners" on the advertisers program page. Please note that you need to have an approved channel relation to the advertiser to be able to get and use the banners (Item #4).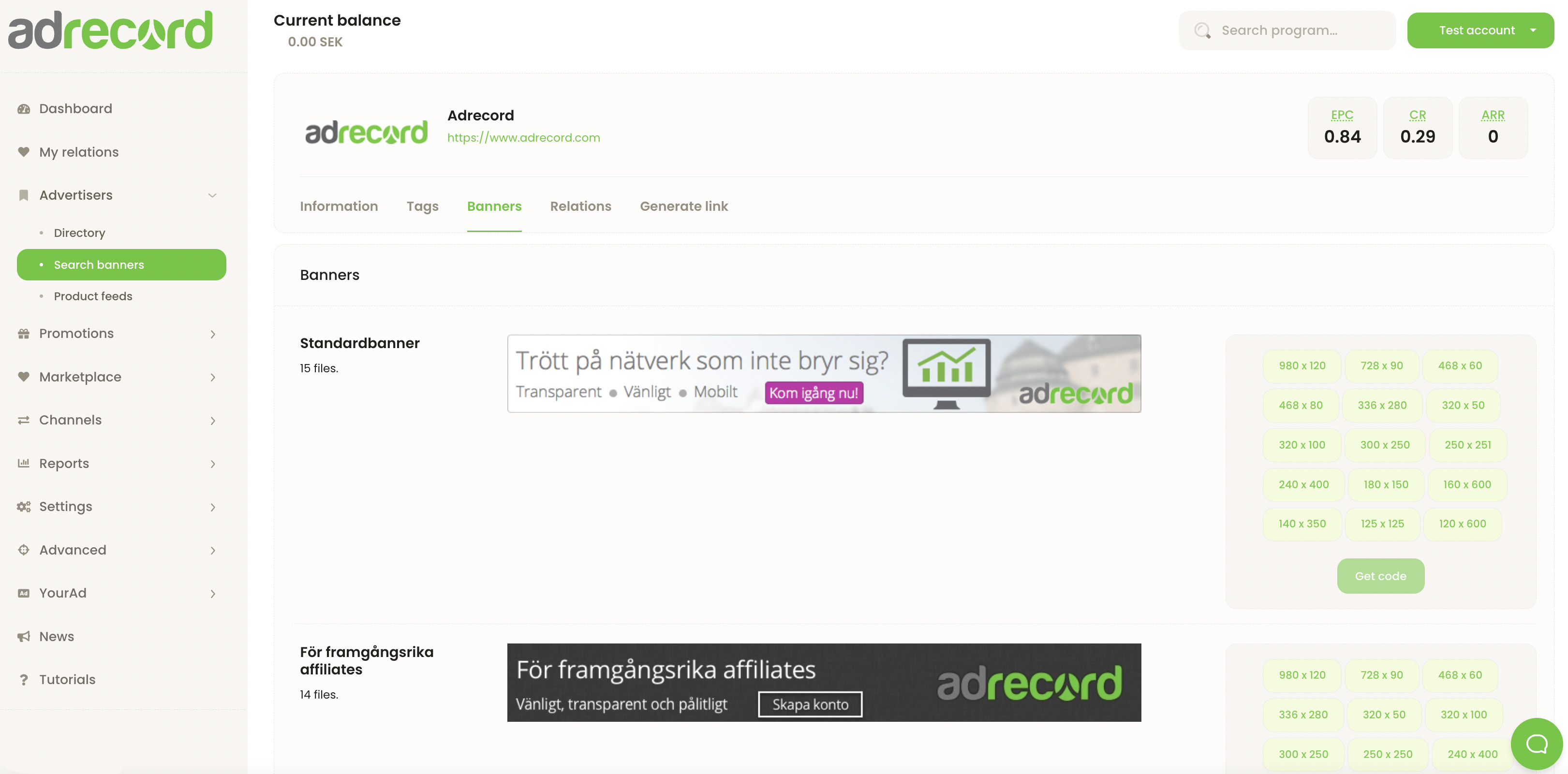 The available banners for the advertiser is now shown below. Pick an appropriate banner in an appropriate size accoring to your website or blog design and click the link "Get code".
You don't have to fill in any fields, it will work just fine to just copy the banner-code in the gray box in the pop-up-window. Then paste the code where you want the banner to show up in your blogpost or in your webpage.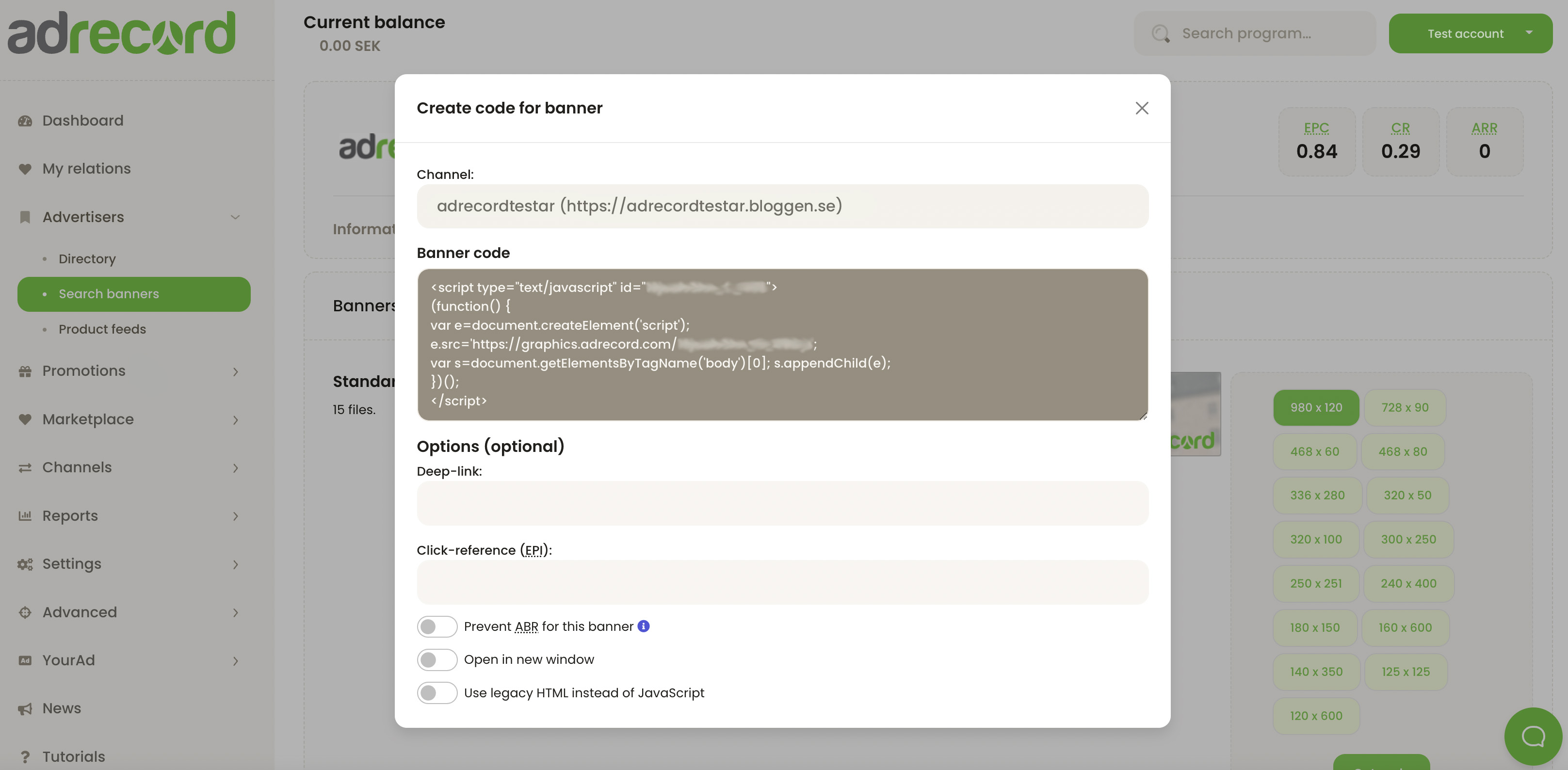 ---
Need more help?
Read more about what affiliate marketing really is, or what an affiliate might do for a living.
If you don't find any answer to your questions on this page or in our knowledge base you can contact our support.